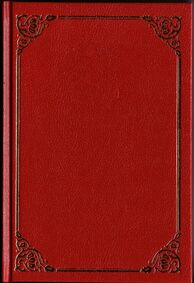 "An Ambodian Adventure: A Firewing's Tale" is a book written by the Ambodian adventurer Ivar Firewing. In the book he writes about his adventures and encounters within the world of Ambodia.
Chapter: 
After this book is done a second will be written by Ivar Firewing to further describe his adventures and encounters in the magical world of Ambodia. 
The second book will called: "An Ambodian Adventure: World of Wonders" and will feature the return of Hargo The Dark One alongside with The Council of The Honourable and maybe even a battle at Iverar City.
Ivar will introduce Tantin Spud in this book. 
Inspiration
Edit
Like this Wiki the book has gained most of its inspiration from The Hobbit and Lord of The Rings series written by J.R.R. Tolkien .
Even though the writing is mostly simplistic, Ivar tries to give the books a playful Hobbit like atmosphere with some of the dark and more mature LOTR atmosphere in the mix. 
Canon Or Not
Edit
The Book of Ivar Firewing does not follow the original Ambodia storyline layed out in the quests played in the game. It does feature some quests in most of their original form but not entirely and scenes might have been left out or changed entirely. 
The Book(s) follow the story for Ivar Firewing that Ivar has come up and includes the characters made by the other users to accompany him. So this story isn't canon, so far.